The problem with Google's Street View photo of BrewDog Dublin is a common one – the Street View car took a photograph of the location before the pub before was built. 
So if you're thinking of visiting for lunch and beers and were to Google Maps the venue, instead of seeing an incredible new pub in a vibrant part of Dublin, you see a laneway and a building site! 
Here's a quick screen recording of the current Street View on Google Maps.
.
That photograph is a big problem for a new business gaining a lot of media attention and working hard to establish a customer base and attract visitors. What they need is high quality 360° imagery photographed by a Street View Trusted Pro (that's me!).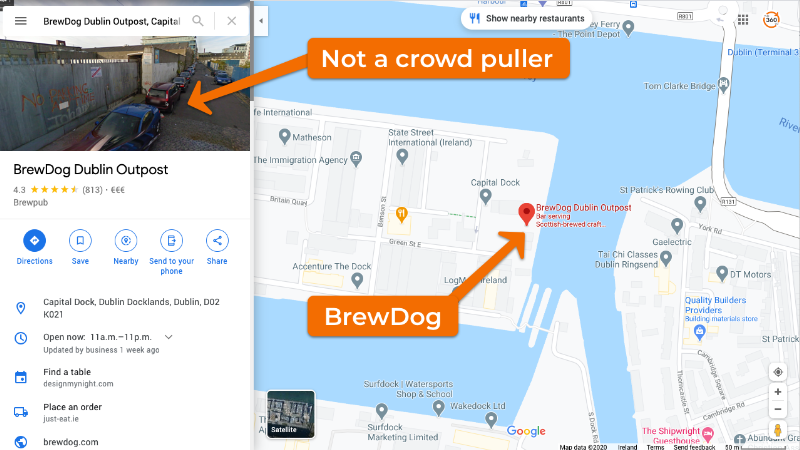 Although BrewDog is open, Google Maps is showing a laneway and building site.
Luckily, this is a realtively easy fix. So in March we visited BrewDog with a view to updating the imagery and ensuring Google Maps displayed a more inviting and realistic series of 360° photos of the new Scottish bar.
Happily, the BrewDog in Dublin is a stunning venue and the interiors, lighting and signage all make for great 360° material. Within a few days, we had uploaded the new 360° images to Google Maps and they were quickly adopted by the platform as the default images.
.
Aditionally, Google Maps uses our new exterior photo of the venue as the default image for anyone searching the venue on Google Maps.