360° Virtual Tour - Dublin Outpost by BrewDog
Take a 360° Virtual Tour of BrewDog's first Dublin pub.
About Dublin Outpost
Located in the Dublin Docklands, BrewDog's latest international bar and brewery is actually the Scottish brewer's 100th global craft beer bar.
About the 360° Virtual Tour
It's safe to say that Ireland does a pretty good Irish Pub! They are renowned globally for their atmosphere, the warm welcome and we have some famous drinks too. On my first visit to Outpost Dublin, I wasn't quite sure what to expect from a Scottish pub creating craft beer in Dublin.
In February (and just before lockdown), I had the chance to meet the friendly team and see Dublin's newest pub first-hand. I was quickly impressed by everything we hold dear in our own pubs - the friendly greeting and the astmosphere were all there. Additionally, a stunning setting in a great location helps finish the appeal of Outpost Dublin.
The Virtual Tour comprises over fifteen 360° photographs of Dublin Outpost including venue highlights such as:
The micro brewery at the rear where a selection of BrewDog favourites are brewed by a full-time brewer
The Beer School where you can book a beer tasting experience and sample some brews
An extensive area on the gound floor with a range of seating options for both eating/drinking and watching sport
Two bars with over 30 taps to compliment the burgers, wings and pizza menus
The famous stairwell with the giant tentacles mural
A huge outdoor terrace and heated roof-top garden
180° river views from the front entrance with views of the Liffey entrance and the edge of Grand Canal Dock
Upstairs eating with games such as Olympic-sized shuffleboards, Tube Table Tennis and giant Jenga
A private party/event space for rent overlooking the Liffey
On this occasion I didn't get a chance to sample a beer. But I've enjoyed BrewDog beer at home and they're a personal favourite.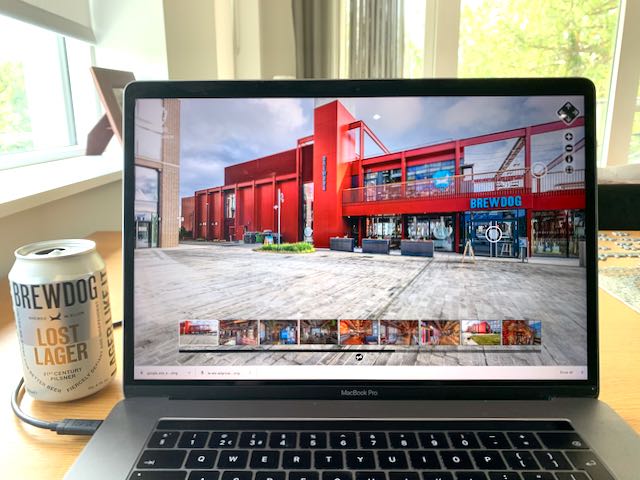 I wish the team at BrewDog all the best and consider this a mighty and welcome addition to Dublin's pub scene.